The Mil Mi-8 (Russian: Ми-8, NATO reporting name: Hip) is a medium twin-turbine transport helicopter that can also act as a gunship. The Mi-8 is the world's most-produced helicopter, and is used by over 50 countries. Russia is the largest operator of the Mi-8/Mi-17 helicopter. It is Certain Transport Helicopter.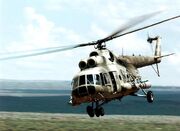 Ad blocker interference detected!
Wikia is a free-to-use site that makes money from advertising. We have a modified experience for viewers using ad blockers

Wikia is not accessible if you've made further modifications. Remove the custom ad blocker rule(s) and the page will load as expected.