The
FN F2000
is a
5.56x45mm NATO
Bullpup
Assault Rifle
, designed by
FN Herstal
in
Belgium
.The F2000 made its debut in March 2001 at the
IDEX
defense exhibition held in
Abu Dhabi
, in
United Arab Emirates
.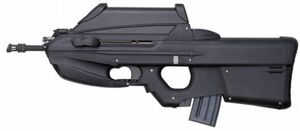 It is F2000 Red dot sight seen in No Russian. It can be in Modern Warfare 2. It is F200 Thermal Scope.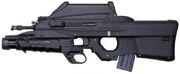 The F2000 is a modular weapon system; its principal component is a compact 5.56×45mm NATO-caliber assault rifle configured in a bullpup layout. The F2000 is a selective fire weapon operating from a closed bolt.
The rifle consists of two main assemblies: the barreled receiver group and the frame, coupled together by means of an axis pin located above the trigger guard. The barrel group has an integral MIL-STD-1913 Picatinny rail used to mount optical sights. The frame or lower receiver contains the trigger group, the bolt and bolt carrier assembly, return mechanism and magazine well. A removable handguard is installed in front of the trigger which completes and encloses the trigger guard.
Ad blocker interference detected!
Wikia is a free-to-use site that makes money from advertising. We have a modified experience for viewers using ad blockers

Wikia is not accessible if you've made further modifications. Remove the custom ad blocker rule(s) and the page will load as expected.