The A-91 is a Russian bullpup configuration assault rifle developed by KBP. The rifle features an integrated 40 mm grenade launcher, which is mounted under the barrel (though older models had an above barrel grenade launcher). It is similar to the OC-14 Groza assault rifle, another Russian rifle.
The A-91 also features a forward case ejection system like in the
FN F2000
. It features GP-95 40mm grenade launcher.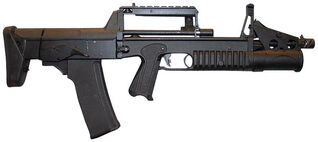 It is only used by
William Ye
and
Field Masters
. The player cannot hold the paper weapon due to become unusable that destroys the trigger upon hitting the Gun-wielder.
Ad blocker interference detected!
Wikia is a free-to-use site that makes money from advertising. We have a modified experience for viewers using ad blockers

Wikia is not accessible if you've made further modifications. Remove the custom ad blocker rule(s) and the page will load as expected.