5.56×45mm NATO (official NATO nomenclature 5.56 NATO) is a rifle cartridge developed in the United States and originally chambered in the M16 rifle. Under STANAG 4172, it is a standard cartridge for NATO forces as well as many non-NATO countries. It is derived from, but not identical to, the .223 Remington cartridge. When the bullet impacts at high velocity and yaws in tissue, fragmentation creates a rapid transfer of energy which can result in dramatic wounding effects.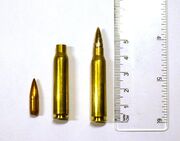 Ad blocker interference detected!
Wikia is a free-to-use site that makes money from advertising. We have a modified experience for viewers using ad blockers

Wikia is not accessible if you've made further modifications. Remove the custom ad blocker rule(s) and the page will load as expected.